Features
Adaptive, Dynamic Vehicle Speed Control
The VMS continuously monitors performance and actively adjusts to road conditions and vehicle weight. Accurate and smooth control with top speed selectable at 1 MPH increments.
Variable Engine Speed Control
The VMS allows configuration of several variable rev limits to force fuel efficient gear change.
Acceleration Control
The VMS can be programmed to limit acceleration and reduce costly aggressive driving. The PC configurable acceleration levels balance vehicle performance while maximising savings.
Universal Vehicle Fit
The VMS will connect to almost any vehicle to provide cost reducing, safety enhancing benefits. Future proofed by secure PC based configuration with firmware update capability.
Tamper Resistant
The VMS features an optional reduction in throttle (limp home mode) in the event of tampering.
Environmentally Friendly
The VMS maintains consistent reduced speed and acceleration whilst driving. This can significantly reduce the emission of pollutants.
Road Safety/Duty of Care
The VMS top speed limiting aids in meeting road safety and DOC requirements. The added acceleration control has a positive impact on inappropriate speed and improving driving standards of your employees.
Fast Return on Investment
The VMS can help achieve significant fuel, maintenance and environmental benefits. Speedy installation and competitive pricing mean the installation of VMS will pay for itself quickly.
Override Options
The VMS includes configurable override options such as accelerator pedal double pump or full press to floor. VMS can be set to automatically deactivate or allow a secondary configurable higher speed limit when an input signal is supplied, such as activating an emergency vehicle's lights.
Installation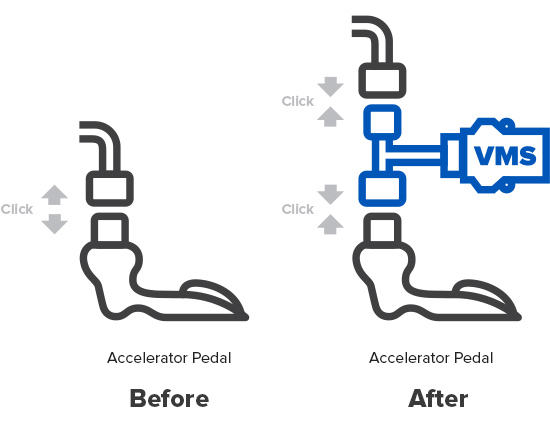 The
Sturdy

Advantage
40 years experience in speed control with over 800,000 installs worldwide
Fast flexible nationwide fitment available
Exemplary product support
Manufactured in the USA to: TS 16949 and ISO 9001:2008
Customer focused approach
3 year limited warranty
Cost Savings Calculator
Use our fuel savings calculator below to see how much you could save on your fleet in fuel costs.
Calculate Savings
Download PDF
To download our PDF click the button given below
Download PDF